Kristal Parks is dedicated to bringing joy and delight to children and to teach them a respect for all life. She has worked with refugee children in South East Asia and war threatened children in Central America. She is a former member of Colorado Clowns and the Mile High Magician Society.
SCHOOL THEATER SHOW,
CLASSROOM PRESENTATION
or
PRIVATE PARTY: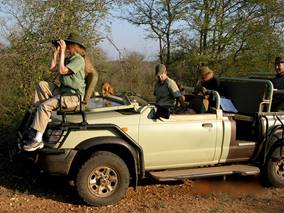 Wild Safari Adventure
With professional excellence, Kristal creates a memorable occasion drawing from her experience of living in the forest for 2 years and working in Africa for 10. She shows up in safari getup and uses amazing stories, video and magic to enchant, educate and entertain students in school or guests at birthday parties, young and old.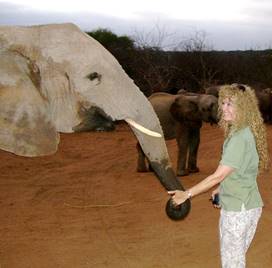 The Amazing Wonders of Elephants
Kristal is an elephant conservationist. Her riveting stories of tracking elephants in the bush of Africa, collaborating with indigenous tribes and working to protect and save elephants is so captivating that many who hear her decide to become conservationists themselves! She uses stories, video and a trick or two to educate and entertain. Each show is custom made to be age appropriate for the school class or birthday child and his/her guests.
The Enchanting Wonders of Nature
Developed to enhance and encourage children's innate love and wonder of nature, Kristal uses humor, video, magic and play to educate and entertain. She draws from her time with Indigenous Nations around the world who taught her amazing things about animals and nature. Her stories creat e a unique party of awe, wonder and fascination.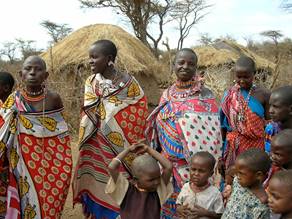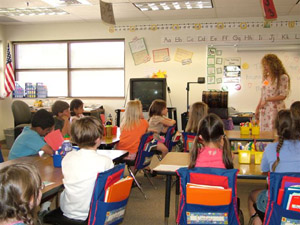 ---
Parties are available in the Denver metro area.

---
TO BOOK A PARTY CALL: 303-571-0801

Bilingual (spanish) performances are available.
Rave Reviews
From The Children's Museum of Denver:
To Whom It May Concern,

I wish to offer my highest recommendations for Kristal Parks' performances for children. Her heartfelt stories and manner have long been a favorite here with the young visitors to the Children's Museum of Denver.

Kristal has provided one-on-one entertainment via face painting, balloon tying and clowning nearly every weekend for the last year of operation here at the museum. Is it possible that our 30% increase in attendance last year could be due in part to the personal attention and lively atmosphere she has provided? I do believe Kristal has played a significant part in bringing the wonder and joy so essential to a happy childhood here to our young visitors and I strongly applaud her efforts.

Of even greater import, however, has been the development of her Wonders of Nature Show. I have watched Kristal develop this show from its earliest inspiration into a truly magical experience for children. This one-woman show takes children back to the mysteries of a medieval forest and provides a hat-full of tricks and jokes that make the adventure truly a delight. I offer my sincerest support of both of these ventures, as I have seen their most favorable results on the faces of the children in our theater.

With best regards,
Marolyn Masterson
Director of Children's Theater
From Southwest Plaza:
To whom it may concern,

I had the pleasure of meeting Kristal Parks during The Sport Profile Tour held at Southwest Plaza. The promotional company in charge of the tour had hired Kristal to do face painting for the event. I was very impressed with Kristal's creative talents as well as her ability to captivate a crowd with her vibrant personality and exceptional skills as a face painter and entertainer. We invite Kristal to entertain for us whenever we can. She is always a welcome addition to any event!

I would highly recommend Kristal Parks for all your special events. She is a pleasure to deal with, she is very accommodating, she appeals to all ages, and she is one of the most requested entertainers by our customers here at Southwest Plaza.

Regards,
Darlene Jones
Marketing Assistant, Southwest Plaza
From The Parents:
Just wanted to say thank you for making Kyra's 5th birthday party such a spectacular day! The kids and the adults were all mesmerized by your magical style and presence.
~Judy S.

Thank you for helping to make Savannah's birthday party so special. All the kids loved your show, and the grownups did too! It was terrific. Everyone said they were impressed, and would love to have you at their party... Again, it was a treat to see all the kids enjoying themselves so much...
~Barb Reynolds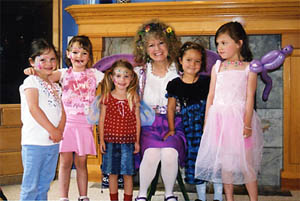 From The Children Themselves:
Emma, age 5:

Thank you for making my birthday party so special... I especially loved to hear you talk about fairyland and to see your fairy magic...I still have my balloon bear you made for me. All my friends are still talking about you and telling everyone about the fairy magic. I love you.
From Border's Bookstore:
To Whom It May Concern:

Kristal was commissioned to perform at our store for our midnight release party of the new Harry Potter book, "Order of the Phoenix". Her performance was right in line with our theme of Harry Potter, magic and wizards. She performed three shows for us that night, to a crowd of what could be estimated to be 800 to 1000 people.

With all the chaos going around, Kristal was a great asset to have in the store as the children (and adults) were intrigued and entertained with her magic shows...

Kristal comes highly recommended from this store, and we will be sure to be having her here for the release of the next Harry Potter book.

David Hauck
Sales Manager
Border Bookstore, Littleton
For more information, email Kristal.